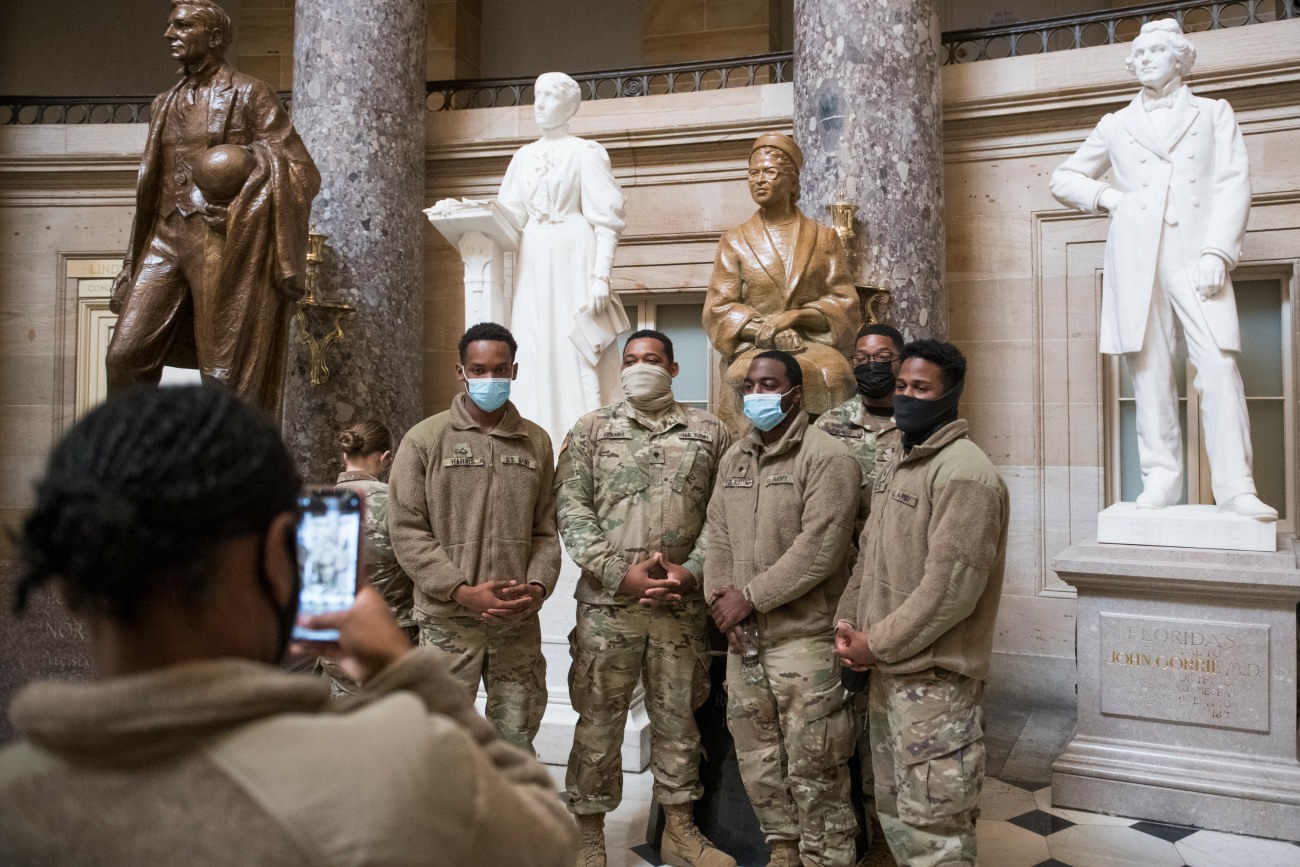 I've found my new favorite thing: stories and photos of the 20,000 young National Guard soldiers protecting the Capitol from the lunatic president and his army of unhinged nutjobs. Yesterday, the photos and stories started coming in, as the House of Representative reconvened to vote on an article of impeachment, inciting an insurrection. When the representatives, House staffers and media outlets arrived at the Capitol, they were greeted by unreal scenes of thousands of National Guard soldiers camped out within the Capitol and outside of the Capitol. During the National Guard's breaks and downtime, they were allowed to chill out inside the Capitol, and many of them took the chance to nap on the floor, look at the artwork and statues and hang out with Congressmen and journalists.
The Capitol hasn't seen this kind of military influx since the Civil War. The fact that this is happening because everyone knows that Donald Trump will send more of his MAGA terrorist army to terrorize and murder people is still shocking to me. If there's one good thing to come out of the January 6th Capitol siege, it's that federal and state buildings got ready in a f–king hurry for additional terrorist attacks. These will likely be the same scenes across state capitals in all 50 states, as governors activate their National Guard units. The NG units in the Capitol are from all over – I've heard that there are units from Pennsylvania, Maryland, Virginia and more. They're likely to be out in force like this for weeks, beyond the inauguration.
After seeing the incredible photos of National Guardsmen sleeping on the floor of the Capitol, many Americans wanted to send gifts and care packages to the NG. The NG has said publicly that while they appreciate the offers, their men and women have accommodations in DC, and they're just resting in the Capitol when they're off-duty, and there's literally no way to coordinate care packages and such.
This thread from a HuffPo reporter is really amazing – most of the National Guard kids had never been in the Capitol, and they were asking him if the gift shop would open, and many of them were expressing how cool it was to hang out in the Capitol and how the building is really beautiful. Representatives Michael Waltz and Vicky Hartzler sent pizzas to the Guardsmen. Rep. Brian Mast gave at least one unit a tour of the Rotunda, explaining the art and how it was built. Speaker Pelosi spoke to the National Guardsmen, thanking them all for being there, and handing out her special "challenge coin."
These are National Guard members in the Capitol on Wednesday, as the House is poised to impeach President Trump for a second time.
The Pentagon says about 15,000 troops will be in Washington in preparation for President-elect Joe Biden's inauguration. https://t.co/xMbza6aaET pic.twitter.com/h3kwiyu6MJ
— The New York Times (@nytimes) January 13, 2021
Source:: Cele|bitchy
(Visited 4 times, 1 visits today)