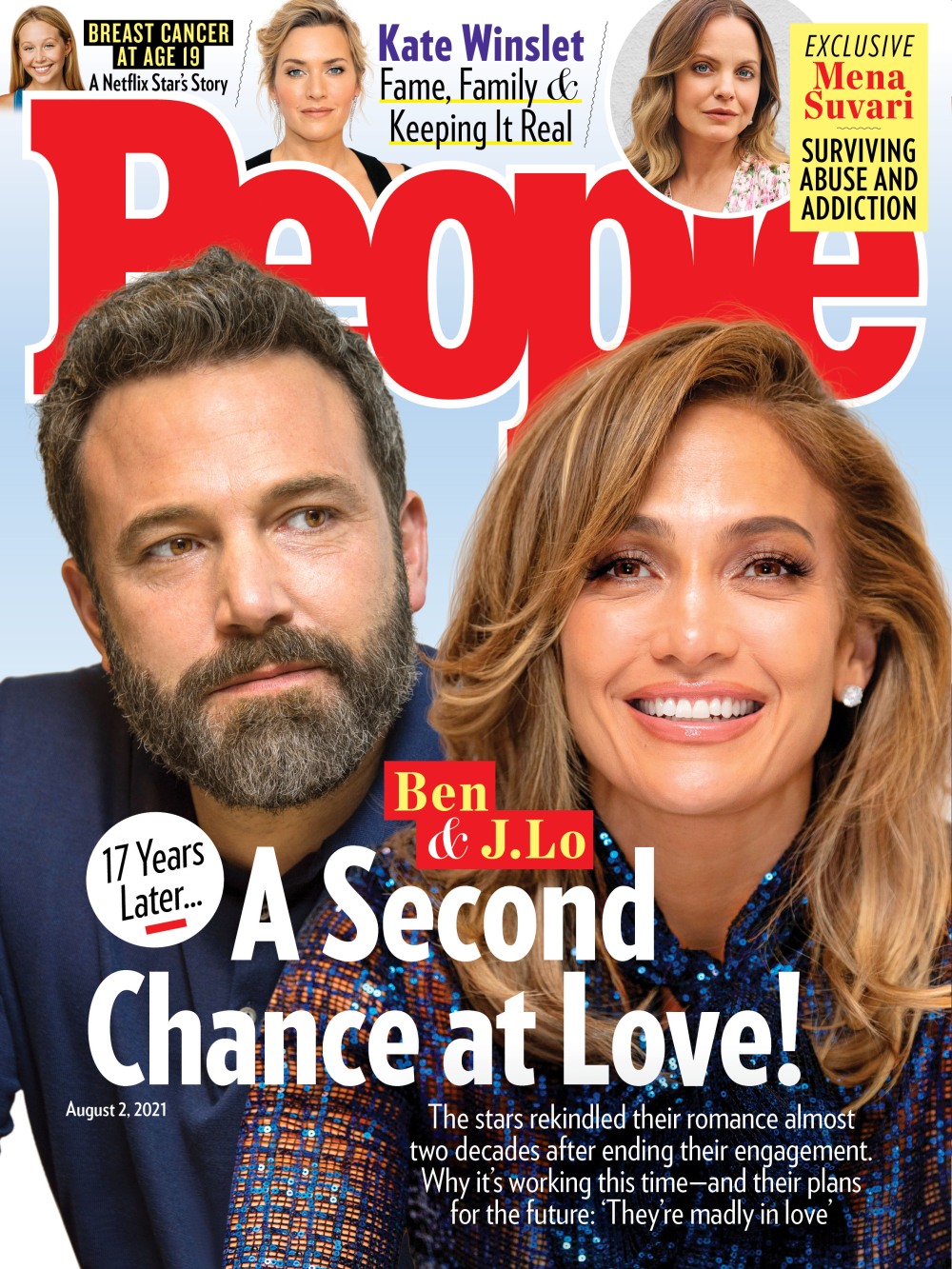 I had a sixth sense prediction that Jennifer Lopez and Ben Affleck's romance would be this week's People Magazine cover and I was right! People decided to ignore the royal dramas and whatever else is happening in gossip. They know the Bennifer Revival is the perfect storm of feel-good fun gossip, nostalgia, a middle-aged love story and aspirational living (for real estate alone!). The cover story isn't particularly revealing, it's basically what we all know: Ben and Jen went from "casually seeing each other just days after her split with A-Rod" to "ready to settle down with each other for life."
Jennifer Lopez and Ben Affleck are serious about their rekindled romance. A Hollywood insider tells PEOPLE in this week's issue that the pair "are madly in love" and "the loves of each other's lives."
The couple originally began dating in July 2002 and got engaged that November before postponing their September 2003 wedding days before the date. They ultimately called off their engagement in January 2004. They were first spotted spending time together again in April.
A source close to Lopez, 51, and Affleck, 48, says Affleck is "very happy" with Lopez, and that "she's wonderful for him."
"They want to do everything they can to make this work," adds a Lopez source.
Sources also tell PEOPLE that Lopez's son Max and daughter Emme, 13, are "slowly getting to know" Affleck," and that "everything seems to be running smoothly" as she house hunts in Los Angeles.
"Emme and Max are on board with starting fresh in L.A.," says the Lopez insider, adding that the twins will also continue to spend time in Miami with dad Marc Anthony.
Of the connection between the Hustlers star and two-time Oscar winner, the Lopez source says: "Even though their split many years ago was devastating for Jennifer, she has never had a bad word to say about Ben. She believes that it just wasn't meant to be then and feels like they've been given a second chance."
[From People]
A lot of people are like "it's wrong to introduce kids to new partners so quickly" but my take is that Jennifer's kids probably disliked A-Rod anyway. A-Rod was and is a douche, and Emme in particular seems to like Ben. As for this "loves of each other's lives" business… I mean, that's pretty rough for their lovers/spouses/partners who came in between OG Bennifer and Revival Bennifer. That being said, Jen hasn't looked this happy in decades, and Ben seems… content. I'm sure he'll f–k it up somehow, but I've been pleasantly surprised by how chill he has been thus far.
Photos courtesy of Backgrid.
Source:: Cele|bitchy
(Visited 7 times, 1 visits today)

Marvel Studios & Disney+ | SUPER BOWL 2021 | Promo