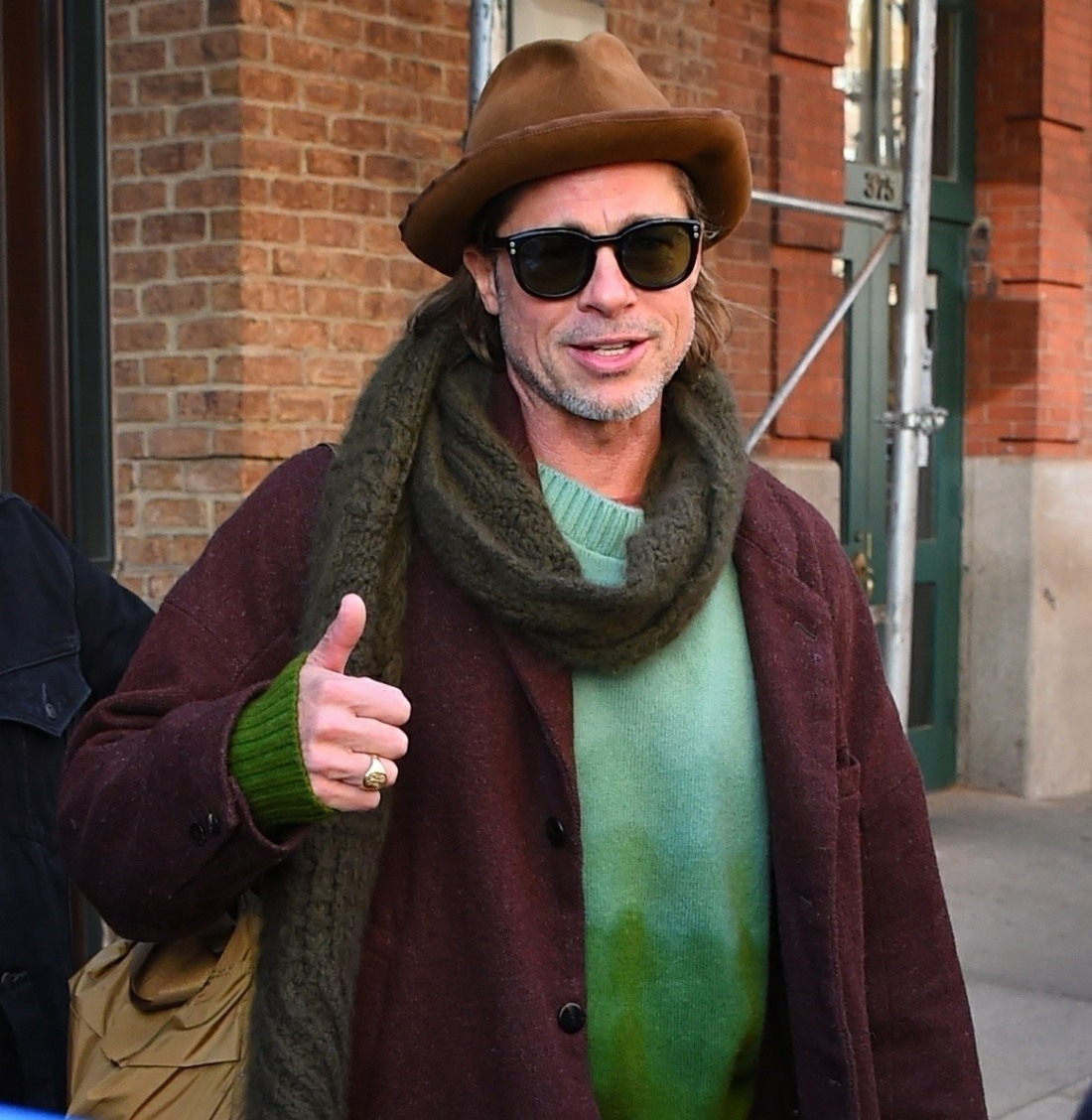 Brad Pitt found himself desperate for some good publicity, and some publicity which didn't involve a thirsty wannabe Instagram influencer or one of his ex-wives. So Brad arranged a lil' photoshoot for himself doing charity work in LA – convenient how the light was just right and his mask came undone at just the right moment!
Brad Pitt spends hours delivering meals to LA housing project https://t.co/6vhZLzdnkh pic.twitter.com/eOvCHCw36a
— Page Six (@PageSix) November 19, 2020
Lainey at LaineyGossip also called shenanigans on these photos and how they were carefully released to coincide with the news about Judge Ouderkirk staying on Brad's divorce case. I think it's more than a tit-for-tat about the divorce though – I think Brad just wants to rebrand himself (for the millionth time) as Good Guy Brad, the dude who quietly volunteers at a worthy charity. "Quietly," as in "arrange to have it strategically leaked to the Daily Mail."
Brad Pitt has been quietly helping to feed the less fortunate in one of LA's most deprived housing projects for months, DailyMail.com can exclusively reveal. Community leader DeAnthony Langston described the Once Upon a Time in Hollywood star as a 'Good Samaritan' for supporting the Watts area of South LA during the pandemic. DeAnthony explained that the Oscar-winner first showed up in Watts this summer with his friend Flea, the Red Hot Chili Peppers bassist.
He says Brad told him: 'You could really use us right now because white guilt is at an all-time high.'
Since then the actor has been back some 30 times, all while dealing with the fallout from the pandemic and his messy court battle for custody of the six kids he shares with ex Angelina Jolie. DeAnthony, who runs a program teaching youngsters life skills through basketball called Real Run Foundation, says he spoke with Brad a couple of times without even realizing who it was due to the mask he used to protect himself from Covid-19.
Dad-of-two DeAnthony, 54, told DailyMail.com: 'I met this guy a couple of times while we were handing out boxes and I didn't know who he was. Then one of my friends was talking about Brad Pitt and I was like "What do you mean, Brad Pitt? Why didn't you tell me?" Turns out I had talked to Brad Pitt for 30 minutes and I didn't even know it was him. He was just trying to find out about how everybody is doing. He was so cool. He was like "You could really use us right now because white guilt is at an all-time high". I had just lost some really close friends and I was talking to him about it, and since then he always asks how I'm doing.'
DeAnthony said, 'He really puts the work in, he's amazing. Recently he jumped on his BMW motorcycle and was riding it around the projects. Other times he has brought a big old truck with boxes of food in …read more
Source:: Cele|bitchy
(Visited 3 times, 1 visits today)