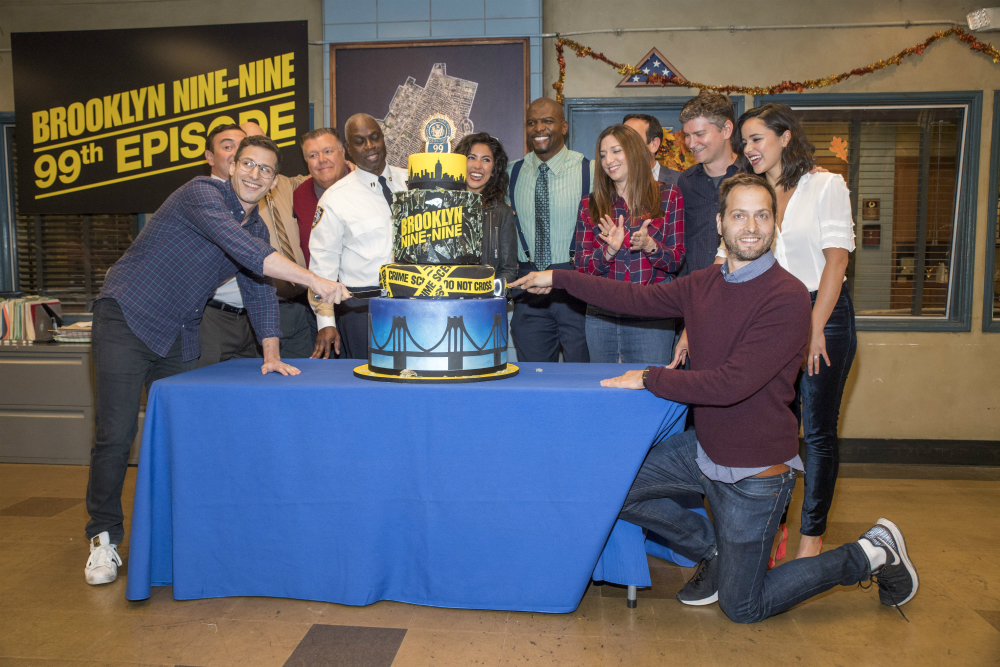 Wednesday marked the first table read for season six of Brooklyn Nine-Nine. Right before the read, there was a panel discussion about the new season. Among the things we learned was that B99 wants to develop a storyline dedicated to #MeToo. As we know, Terry Crews, Sgt. Terry Jeffords on the show, has been at the forefront of the movement. The show wants to support him and all the victims but their main goal is to get it right for victims' sake.
"I like to call it the Summer of Freedom," Brooklyn Nine-Nine star Terry Crews said during the NBC show's panel at TCA, when asked about having come forward with his own report of having been sexually harassed in Hollywood.
"This is all about freedom and being able to tell your story," Crews said at TCA today "Feeling safe and having friends and family on [Brooklyn Nine-Nine] I felt secure enough I could tell my truth and still go to work. It made a difference."
"Each and every person…gave me the strength, along with all of the women who came forward in the #MeToo movement, that's where I got a ton of my strength from," he said, noting he had been talking to the cast about his experience the day before he decided to go public with his tweets.
"This is just the beginning and this is going to be a new day," he predicted optimistically. "From now on the town will be safer for my wife, my son and my daughter."
Series EP Dan Goor said they were interested in doing a #MeToo episode, continuing the show's trend of doing more issue-oriented episodes. "They are really hard to do, but we're happy with the way they turn out."
"The challenge is to stay true to the show and feel funny, but give a weight to the issue and explore it in a fair way. I can't promise, but we're really interested in trying to do a #MeToo story," he elaborated, saying they are in active talks about it in the writers room.
Added Samberg: "We are not going to do unless we have the right take that does it justice."
[From Deadline]
Spoilers for past episodes of Brooklyn Nine-Nine
One of the things B99 does masterfully is to give a difficult subject the weight and attention it deserves without the whole episode being a complete tonal shift. It's very much like M*A*S*H in that way. Issues they've covered in the past include police racial profiling, coming out to biased parents and dealing with their fellow officers in a crisis situation. And they don't resolve complex issues in 30 minutes. In the profiling episode, which was inspired by an incident that happened to Terry on a plane while he was still playing football, the resolution was Capt. Holt supporting Jeffords. But the larger story, Jeffords' case against the other officer, is ongoing. Diaz and her mom are still not speaking as her mom comes to terms with her feelings about Diaz's bisexuality. Having just read (and possibly …read more
Source:: Cele|bitchy
(Visited 3 times, 1 visits today)