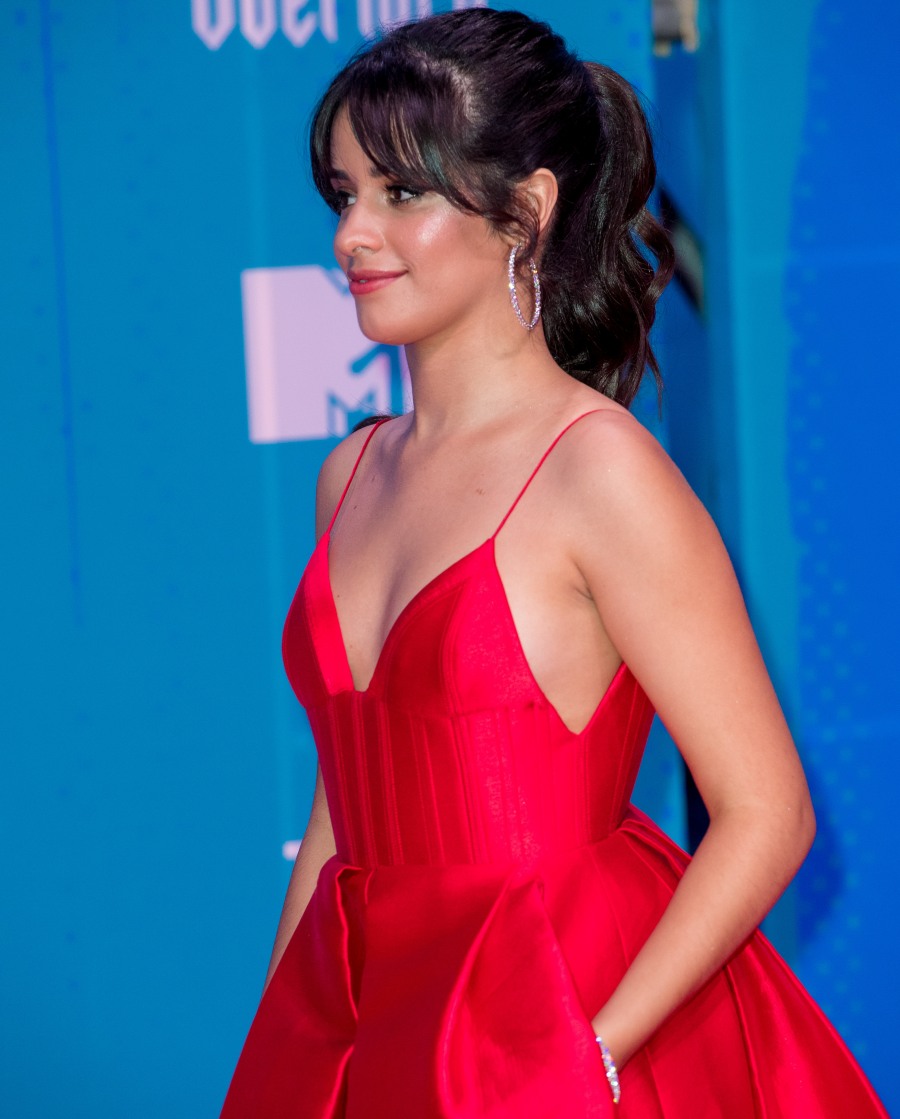 For years now, Ariana Grande has had a signature look: a super-high ponytail, spaghetti-strapped dress/tank, some kind of jacket or blouse falling off one shoulder, lollipop in hand. She usually goes for cat-eye makeup, and she used to wear a little cat-ear headband all the time. But Ari is basically synonymous with the high pony at this point. Whenever I see anyone trying to do a very high pony, I think of Ari. What I've never really thought about is how painful that high pony must for her – having long hair is amazing, but the weight of your hair being pulled tight and high into a ponytail is actually somewhat excruciating. Camila Cabello figured that out when she attempted a somewhat high pony at the MTV EMAs on Sunday. She even tweeted @ Ariana about it:
I just did a high ponytail for the first time and it is literally pulling on my BRAIN ITS SO PAINFUL HOW DO YOU DO IT @ArianaGrande
— camila (@Camila_Cabello) November 4, 2018
well u actually have hair so that prolly makes it a lil more painful ….. nah jk i'm in constant pain always and don't care at all
— Ariana Grande (@ArianaGrande) November 4, 2018
Camila was in so much pain from her regular-height pony that she had to take it out mid-EMAs. It's true – by the time she was posing with her EMAs in the press room, her hair was down.
I had to take it off #thankunext 🙄💅💅💅💅💅 pic.twitter.com/TP5kKqU8KZ
— camila (@Camila_Cabello) November 4, 2018
Ari was happy that Camila still feels things:
awwww so happy for u, u still feel things 🖤🖤🖤
— Ariana Grande (@ArianaGrande) November 4, 2018
I actually have a theory? Maybe Ariana is so irritable about so many things because she's constantly in physical pain for the sake of her signature pony? I understand sacrificing for a look, especially when it's your signature look, but maybe Ariana actually needs to let the pony down more often?
Personal story: the only time I really do a pony at this point is when I'm in the gym. I honestly do get used to the tightness and hair-pulling, but then when I take it out when I get home, I'm like "God, I had been working out with that kind of irritation and pain the whole time, what is happening." Ariana's point is that she's just gotten used to it by now. And maybe she's a bit of masochist. Last thing: might I suggest that both ladies try a low pony? Low ponytails are surprisingly not-bad.
Photos courtesy of WENN.
Source:: Cele|bitchy
(Visited 2 times, 1 visits today)