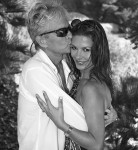 View this post on Instagram
A post shared by Catherine Zeta-Jones (@catherinezetajones)
Catherine Zeta Jones and Michael Douglas celebrated their 20th wedding anniversary last November. Catherine and Michael have a 25-year age gap between them. Those age gaps always cause a stir at the start of a relationship but once they pass the 15-20 year mark, we tend to overlook them. Catherine recently participated in the Wall Street Journal's My Monday Morning series. Since her marriage has survived 20 years in Hollywood, they asked her the secret to their success. Catherine said it's having a sense of humor and the understanding that a relationship is going to have ups and downs. The WSJ article is behind a paywall, so I am using an excerpt from Just Jared.
Catherine Zeta-Jones is opening up about her marriage.
The 51-year-old actress revealed the secret to her successful marriage to Michael Douglas in an interview with the Wall Street Journal.
"First of all, we have a lot of fun together," Catherine said. "My husband is 25 years older than me; that's not a secret. With any relationship, it wouldn't be normal if there weren't any ups and downs. The constant is love and respect. We've never, ever lost our sense of humor, and we enjoy each other's company."
She added, "My husband and I spend a lot of time together because, unlike so many couples, we've never had a 9-to-5 job where it's consistent. We're either on or we're off. I'm really working 16 hours a day, or I'm not. He's doing the same, or not. So we've had in our relationship huge amounts of time where we've been just us. We lived on the island of Bermuda for 12 years bringing up our kids. We respect each other's space, and our humor is just long-lasting."
[From Just Jared]
I laughed a little at Catherine's casual reference to "ups and downs" because her marriage has had some pretty major ups and downs. Their relationship emerged from the explosive end to Michael's marriage to Diandra Lurker. However, I'll bet if most married folks looked back on their relationships, we'd find that we went through a lot more crap together than we thought.
I whole-heartedly agree on the humor part. Obviously, it doesn't work for everyone, but it did in my family and it sounds likes it it's working for Catherine and Michael as well. As long as humor is used as a healer and not to mask larger issues. I think the same is true about Catherine's comments regarding the amount of time she and Michael spent together – it's couple specific. I know a (childless) couple who travel for work separately. They spend maybe half their year together and couldn't be happier in their situation. I know another couple that hates it if they are kept apart for more than an average 9-5 work-week. In the end, Catherine and Michael have had some wonderful ups and some devastating and scary …read more
Source:: Cele|bitchy
(Visited 4 times, 1 visits today)

Marvel Studios & Disney+ | SUPER BOWL 2021 | Promo