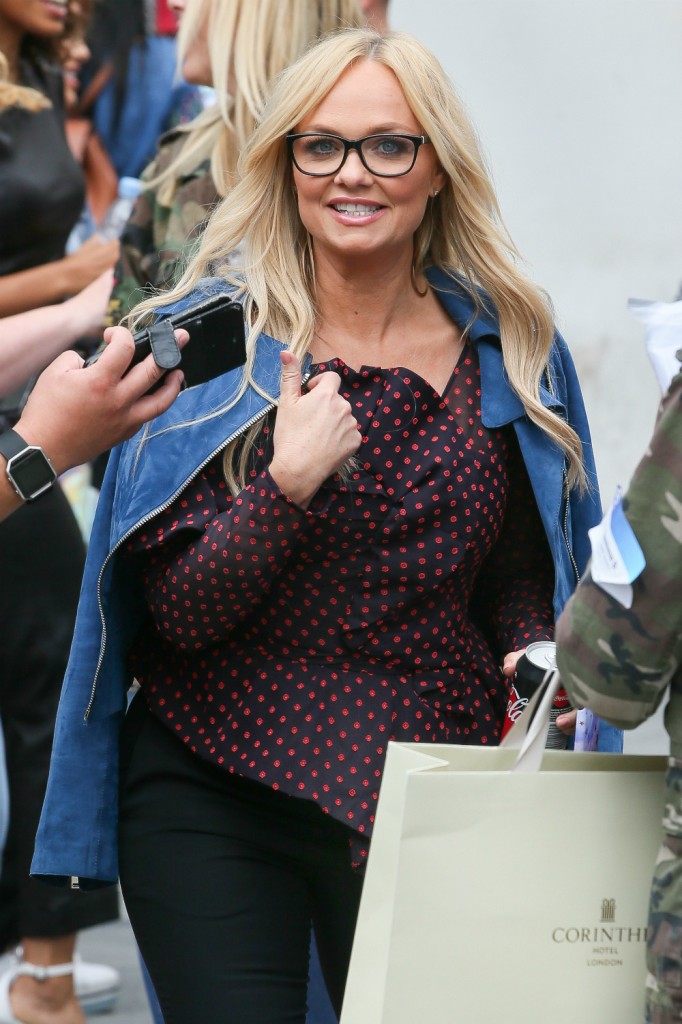 Embed from Getty Images
Now that we know there will be a Spice Tour minus the Posh part, we're getting all sorts of Spice Stories to build momentum. Normally, this would make me happy because Spice News is fun news. However, I could probably live without this last anecdote. If you ever wondered exactly how close the Spice Girls are, consider that Mel B still speaks to Emma Bunton after Emma threw up in Mel's mouth. Ugh. The four Touring Spices appeared on Emma's radio show, Heart Breakfast with Jamie and Emma. It was the first time the four have been seen together since they announced the tour (officially). That's cool. But then we get stories like this which are… less cool.
The Spice Girls are back and reminiscing about all of their memories — even the very unpleasant ones!
On Wednesday, the band — who recently announced they will embark on a stadium tour in 2019 — stopped by the Heart FM Breakfast show in London, which Emma Bunton (a.k.a. Baby Spice) co-hosts alongside Jamie Theakston.
During the visit, the girls were asked to participate in a game to determine how well they knew each other. And immediately off the bat, Mel B (a.k.a. Scary Spice) was reminded of an extremely unfortunate incident that saw Baby Spice vomiting into her mouth.
"We were in America, we'd gone out for some drinks and we were on our way home in the car and I did feel very ill because I'd eaten something weird and had a few drinks," she confessed.
"I was sick out the window but it blew…" Emma continued before Mel B, 43, finally remembered and interjected with, "Yeah, I do remember that, it blew into my mouth!"
As the girls reminisced and laughed together, Emma jokingly argued that Mel B's frequent talking was to blame for the horrifying experience.
"Well, because she was still talking! If she had kept her mouth shut for five minutes, it might not have blown in," she said.
[From People]
Probably the most rock & roll bit of the story was Mel B not remembering this happened initially. I mean, what kind of crazy sh!t has to happen in your world to forget something like that? Man, I hope they pull some better stories out the Spice Vault to promote or this is going to be a very long tour for all of us.
More info is coming out about the tour itself, like the fact that as it stands, the Spices will each make $550K per show, which should give each one $3.2M. And, if the tour does well, the promoters will add a second leg that could mean $6.5M to each. Guess we can $ee the reason Mel B was so dedicated to getting this tour up and running. And she's not slowing down. She's already trying to drive up ticket sales by hinting that Victoria Beckham is still a question mark. Mel B …read more
Source:: Cele|bitchy
(Visited 3 times, 1 visits today)