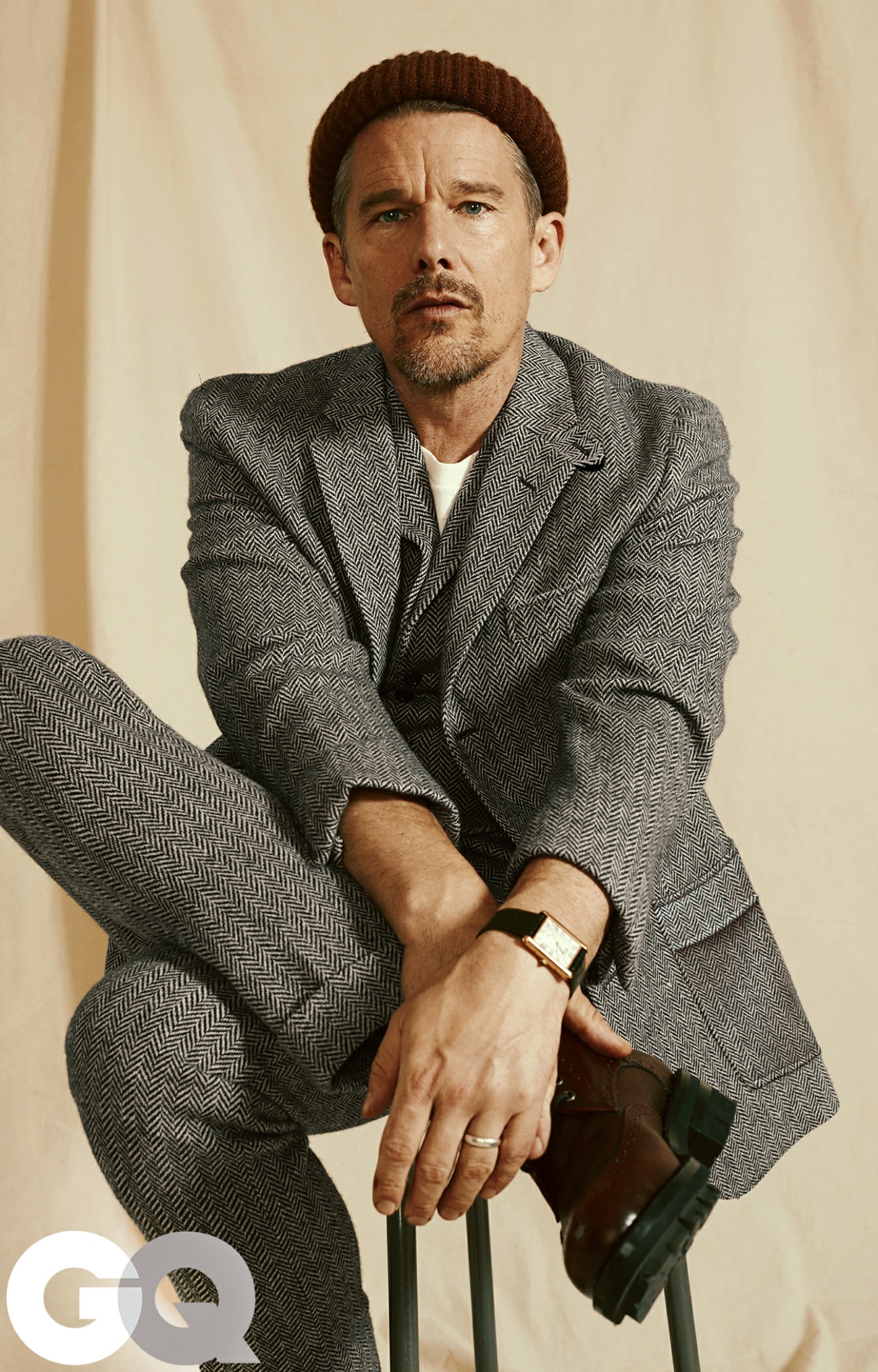 As some of you might remember, I have a thing for Ethan Hawke. I'm hot for him, even though his prettiest days are long gone. If anything, I'm more attracted to him now that he looks a bit grizzled and hard-living. It's not just how he looks though – I appreciate Ethan Hawke so much for how he speaks, and the interviews he gives. He likes to talk, but unlike so many actors, there's not a pretense of "oh I can only talk about my process." Ethan likes to gossip, and he likes to reflect back on his career, the good and the bad, and he loves to talk about other actors and directors. Ethan has a lengthy new interview in the current issue of GQ, and this was just a wonderful read. He talks a lot about ageing, his middle class sensibilities, how Generation X is awesome and so much more. You can read the full piece here. Some highlights:
On his Gen-X hipster cred: "The past is never the past. I remember when Reality Bites came out, how nervous and apprehensive I was anytime anyone said the expression "Gen X." I was so worried that it was going to be a label that I would be stuck with. And now I look at it with such affection. I have a certain pride about being part of a generational movement.
Whether he was ever like his "slacker" characters: "When I did Dead Poets Society, people thought I was a prep-school kid and I got offered other prep-school parts. And then for years, Jesse from Before Sunrise and Troy from Reality Bites were what people thought of when I would meet them. But then Training Day comes out, and the perception around me takes on a new energy. And then Boyhood comes out, and all of a sudden you're everybody's f–king dad. But I did also go on a date once, and we were getting along pretty well, but the young woman kept accidentally calling me Troy. And I had to say, "My name is Ethan."
Fame within his generation: "What I liked about it was that I was famous with my own generation, but old people didn't give a sh-t about who I was… I remember watching Warren Beatty and Jack Nicholson at the Academy Awards the year they presented Best Picture. And I remember one of my friends just screaming, "Get off the stage, you old clowns! Your time's over!" I mean, their work is staggering. But that was an energy we had of wanting to contribute, wanting a turn, wanting an at-bat.
When the '90s ended for him: "In my brain, it happened with becoming a father. All I was interested in was this little girl, you know? And she was born in '98."
Having to do the audition rounds in LA at the age of 30: "Yeah. I had to go audition [for 'Training Day'] a couple times. That was when …read more
Source:: Cele|bitchy
(Visited 2 times, 1 visits today)