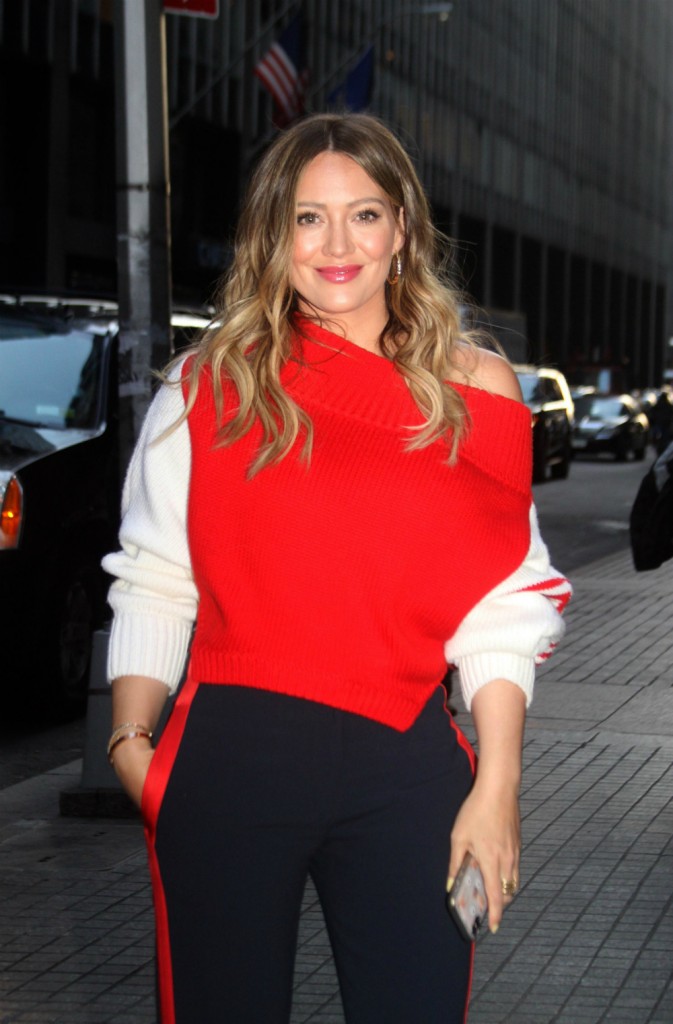 Hilary Duff has a little down time since her series, Younger just aired its season five finale. To occupy herself, she's decided to make a guessing game about her betrothed status. Hilary, who's expecting a little girl with boyfriend Matthew Koma, posted this cryptically worded post to her Instagram on Wednesday:
View this post on Instagram
This vintagey looking sparkly number from @foxandbond has me smiling today
A post shared by Hilary Duff (@hilaryduff) on Sep 11, 2018 at 5:27pm PDT
It's a gold and diamond band on her left hand's ring finger so naturally everyone thought she was announcing that she was engaged. Which, if you ask me, is exactly what Hilary wanted us to assume. The ring is from designer Fox & Bond's Starburst collection and they featured Hilary's post on both their website and Instagram so this is likely just a sponcon. And an effective one because this ring is all over the internet as people try to figure out what the photo means so kudos to both the jewelers and Hilary.
Hilary's sister Haylie added to speculation by commenting on the post, "Ummm, I thought this was something else." So we can deduce it's not an engagement announcement, but it brings up the question: should we expect an announcement soon? I always wonder, when a celeb pulls an engagement fishing trick like this – who is it for? Is it really just an effective ploy to spotlight the product? Or is it a message to the person to whom they want to be engaged? I'd like to think that in 2018, if a woman wants to get married, she would simply propose to her intended but perhaps we aren't there yet. I'll give Hilary the benefit of the doubt. She's probably not looking to hook Matthew with this, just looking for attention.
And I hope it served as a distraction because poor Hilary is kind of done with being pregnant. She posted a pic of her pregnant belly back in July, which she captioned:
The boobs are big the belly is big the body is big. Man.. pregnancy is hard. Giving love to all mamas who make it look effortless… this journey is hard as hell and also incredibly special. Lovely to have a little life inside and to day dream of all the new adventures to come buuuut almost impossible to get my own shoes on..sick of getting up 9 times a night to pee and looking at this weird body in the mirror that is not my own at the moment. Women are so bad ass, this was just a note to remind myself and remind others how's strong and beautiful you are! WE GOT THIS! 🌈❤️💖🙌🏼✨
I can't find a due date for Hilary. Her gender reveal was at the end of June. Gender is determined about the three to four-month range, so Hilary was about four to five months when …read more
Source:: Cele|bitchy
(Visited 1 times, 1 visits today)