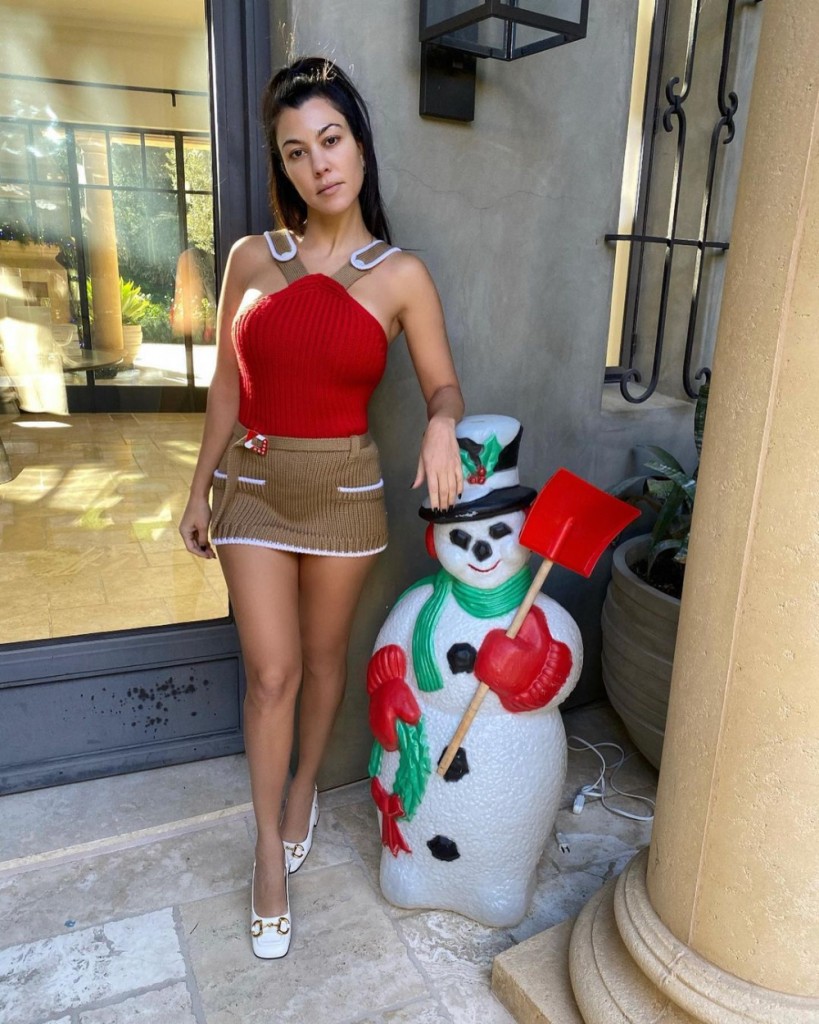 There's new rumor that Kourtney Kardashian might be dating Blink 182 rocker Travis Baker. If this feels familiar, it is. There have been murmurs of a Kourt-Travis connection before, but they've always tamped those down with a "just friends" statement. Kourtney and Travis took their kids to church together in 2018 and went out for dinner after. Last March Travis went on record saying Kourtney was just his buddy. I guess that's all changed now, because the two were spotted flirting… on Instagram. Kourtney posted some screenshots of Travis' favorite movie, True Romance, to which Travis responded, "You're so cool". Travis also left some flame emoji comments on an IG shot Kourtney posted of herself in a bikini that was mostly butt. And I guess that's all the Internet detectives needed to declare this relationship verified.
KOURTNEY Kardashian has 'grown close' to Blink 182 drummer Travis Barker – and fans have spotted their flirty exchanges on Instagram.
The reality star has been friends with the musician for years but insiders say they're closer than ever – and her friends think romance could be on the horizon.
"Kourtney and Travis are very close and they have unreal chemistry," says the friend.
"They talk almost every day and everyone around them is desperate for them to get together."
This week, fans spotted a flirty exchange on Instagram between the pair – Kourtney posted about the musician's favourite movie, True Romance, and he replied "you're so cool" – and spotted that the eldest Kardashian sister had splashed out on a rare $795 Prada bag for Travis's daughter Alabama.
"It was a very interesting gift for Travis's 15 year old daughter – it's the same bag Kourt bought Khloe for Christmas," says the insider.
"Travis and Kourtney have so much in common," the insider added. "They're dedicated parents, and she relies on him for advice on everything from work projects to family rows.
Travis and Kourtney have known each other for over six years since Khloe moved onto the same road in Calabasas, California.
Travis and his then-wife Shanna – and Travis even appeared on a few episodes of Keeping Up With The Kardashians through his son Landon's friendship with Kourtney's son Mason.
[From The Sun]
If I'm reading this correctly, Kourtney and Travis met through Khloe when she moved next to him and Shanna. Is that how Travis' kid and Mason got to be friends as well? This family just cannot conceive of dating outside their circle, can they? The circle gets smaller when I look back and see that last time we discussed Travis' dating life it was with Rita Ora, who famously dated (and cheated on) Rob Kardashian. My gawd I'll bet Christmas dinner at their house is fun. At least Travis is closer to her age than her kids' ages, which wasn't the case with her last two boyfriends. (Not …read more
Source:: Cele|bitchy
(Visited 3 times, 1 visits today)