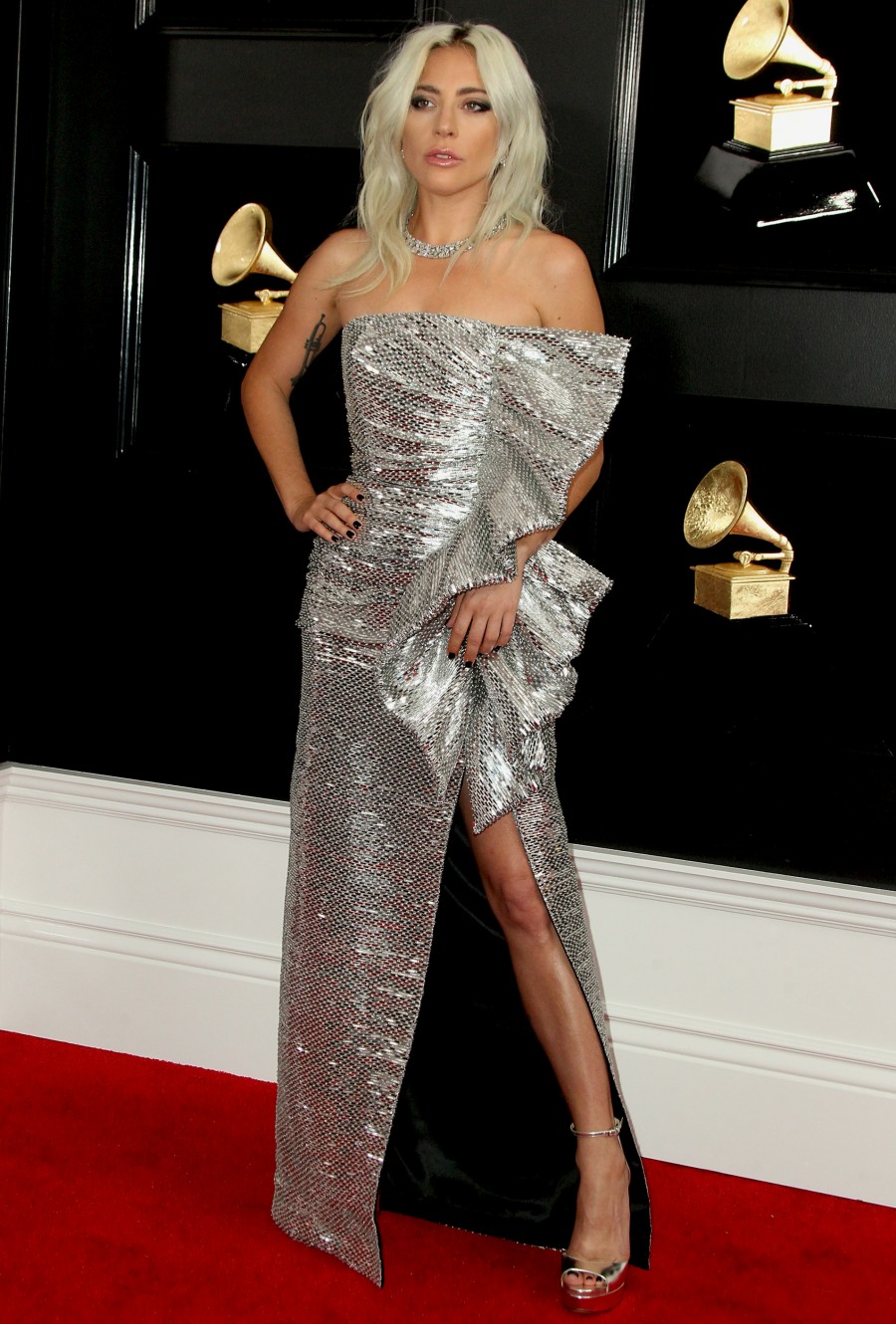 I saw some people on Twitter suggesting that Lady Gaga was stoned out of her mind at the Grammys. Honestly, how can you tell? I think she might have smoked a little weed to take the edge off, but mostly I think she was just nervous, especially given all of the business at hand: she had to come out early and do a bit with Michelle Obama. She had to fake-cry during a speech (she's so weird). And she had to perform "Shallow" all by herself, as Bradley Cooper was in London for the BAFTAs. Incidentally, "Shallow" won the BAFTA for Best Song, and Gaga was winning Grammys last night before the show even started.
For her red carpet look, Gaga chose this perfectly nice Celine gown. It's pretty and notable because it's just a pretty gown. No drama, no meat, no look-at-me fashion antics. I especially liked her loose red carpet hair. Gaga changed several times during the evening, and she wore a sparkly jumpsuit for her Grammy performance of "Shallow." That was the part where maybe I believe Gaga took something or smoked something, because that performance was…not good. I'm saying that as someone who liked "Shallow" and thinks it should win a lot of awards. But her "edgy, rock" performance of the song just fell flat.
lady gaga – shallow .#GRAMMYs⁠ ⁠
pic.twitter.com/7jUIjCrMRb
— ╋ (@R0BAI) February 11, 2019
Photos courtesy of WENN.
Source:: Cele|bitchy
(Visited 4 times, 1 visits today)