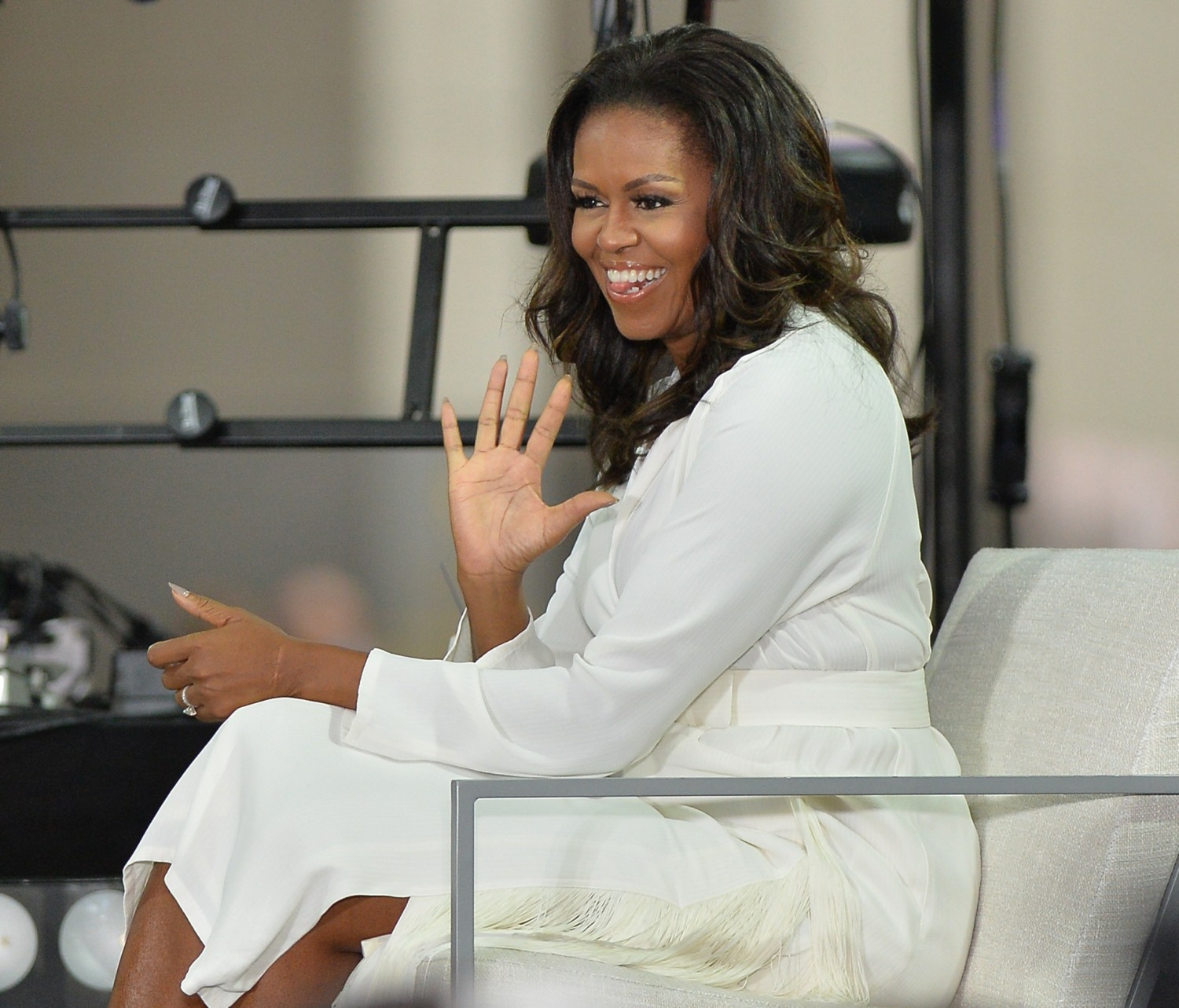 Michelle Obama's memoir, Becoming, comes out next week. I had forgotten that she timed the release for just after the midterms. FLOTUSes always get book deals, although I tend to think that Michelle's memoir is possibly one of the most anticipated memoirs of the past 50 years. While Michelle's brand was "approachable mom" in the White House, she has always held something back, and there is an air of mystery about parts of her life. Becoming seems to deal with all of it though. Some early highlights/excerpts:
How she reacted to Trump's victory: She was in shock the night she learned he would replace her husband in the Oval Office and tried to "block it all out." Obama writes that she assumed Trump was "grandstanding" when he announced his presidential run in 2015. She expresses disbelief over how so many women would choose a "misogynist" over Hillary Clinton, "an exceptionally qualified female candidate." She remembers how her body "buzzed with fury" after seeing the infamous "Access Hollywood" tape, in which Trump brags about sexually assaulting women.
What she thought of Trump's debate performance: She also accuses Trump of using body language to "stalk" Clinton during an election debate. She writes of Trump following Clinton around the stage, standing nearby and "trying to diminish her presence." Trump's message, according to Obama, in words which appear in the book in darkened print: "I can hurt you and get away with it."
She hated Trump since he stoked the Birther conspiracy: "The whole [birther] thing was crazy and mean-spirited, of course, its underlying bigotry and xenophobia hardly concealed. But it was also dangerous, deliberately meant to stir up the wingnuts and kooks," she writes. "What if someone with an unstable mind loaded a gun and drove to Washington? What if that person went looking for our girls? Donald Trump, with his loud and reckless innuendos, was putting my family's safety at risk. And for this I'd never forgive him."
The angry black woman "trap": "I was female, black and strong, which to certain people . . . translated only to 'angry.' It was another damaging cliche, one that's been forever used to sweep minority women to the perimeter of every room . . . I was now starting to actually feel a bit angry, which then made me feel worse, as if I were fulfilling some prophecy laid out for me by the haters."
Her daughters were conceived via IVF: She also shares intimate details for the first time, for instance, that she and her husband had trouble getting pregnant, suffered a miscarriage, and that both daughters were conceived through in vitro fertilization. And that she did a great deal of this while her husband was away serving in the state legislature, leaving her to administer the shots that are a part of that process herself.
[From The Washington Post & The Hollywood Reporter]
The "angry black woman" racist stereotype was completely f–king awful, especially in 2008, when Barack Obama was running for his …read more
Source:: Cele|bitchy
(Visited 1 times, 1 visits today)