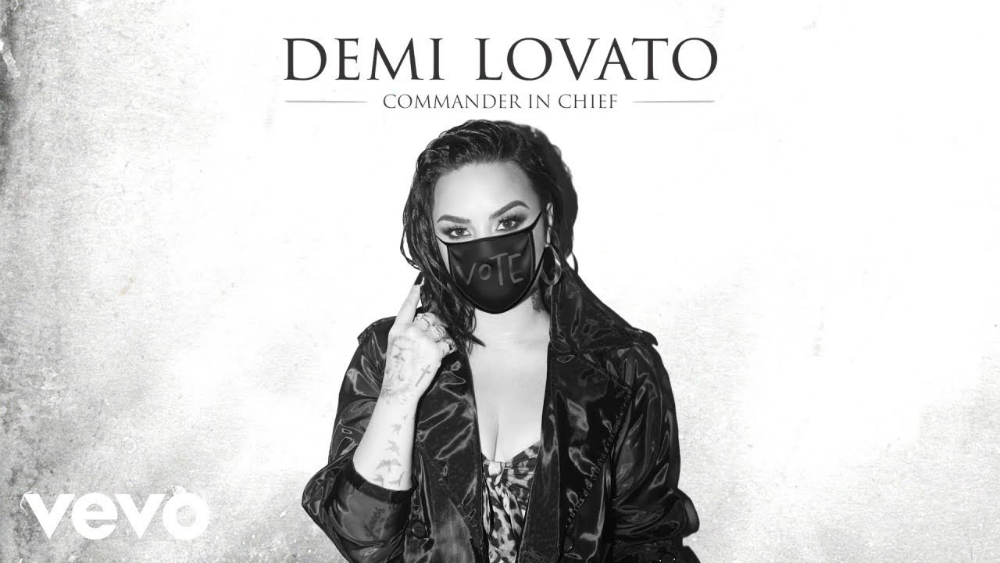 Embed from Getty Images
Yesterday we discussed Demi Lovato's new song, Commander in Chief, and how she told her fans she will not back down about her political beliefs. Wednesday night were the Billboard Music Awards, Pandemic Edition. Demi performed sitting behind a grand piano as her backup singers stood socially distanced in a circle a safe space away under what looked like an alien abduction in progress. The minimalism of it all was very dramatic, especially considering Demi was singing about her disappointment in the leadership of this country and how important it is that we, as citizens, take that power back. Of course, Demi is advocating that we do that with our power to vote. To reinforce her message, at the end of her song, the camera spread wide and two large screens on either side of the stage illuminated the word VOTE. Only no one except those on stage saw it because NBC edited that out and instead, closed with a close-up on Demi's downturned face.
Demi Lovato performed her new song with a message for viewers to "VOTE" … but when it aired on NBC … the network muzzled her message.
Lovato took the stage Wednesday for a moving rendition of her song "Commander in Chief," a song that takes direct aim at President Trump. We've obtained footage of Demi's performance — the way she wanted it to air and it was originally recorded — and at the end the word "VOTE" is very clearly displayed across the video board on the stage.
That final message was gone when the show aired on TV. In its place — a close-up of Demi at the piano.
Sources say the network pulled the plug on the "VOTE" message because the song itself was a slam on Trump and the "VOTE" message was a call to vote against him.
[From TMZ via Jezebel]
TMZ has clips of both the actual performance with the words VOTE flashing to life and the clip of what NBC aired. NBC has declined to comment as yet, but I really wish they would because this makes absolutely no sense. The Celestial Ms. Lizzo devoted the bulk of her acceptance speech to voter suppression and the importance of voting, all while wearing a custom Christian Sirano dress covered with the word "vote" on it, so clearly NBC wasn't afraid of getting the 'vote' message across. Many fingers are pointing to NBC's decision to air the PO(S)TUS Town Hall during ABC's Town Hall with Joe Biden, calling this political censorship. But if that were the case, they would have censored the lyrics to the song Demi was singing, not her message to vote. The chorus alone is, "Commander in Chief, honestly/If I did the things you do/I couldn't sleep, seriously/Do you even know the truth?/ We're in a state of crisis, people are dyin'/While you line your pockets deep/Commander …read more
Source:: Cele|bitchy
(Visited 1 times, 1 visits today)