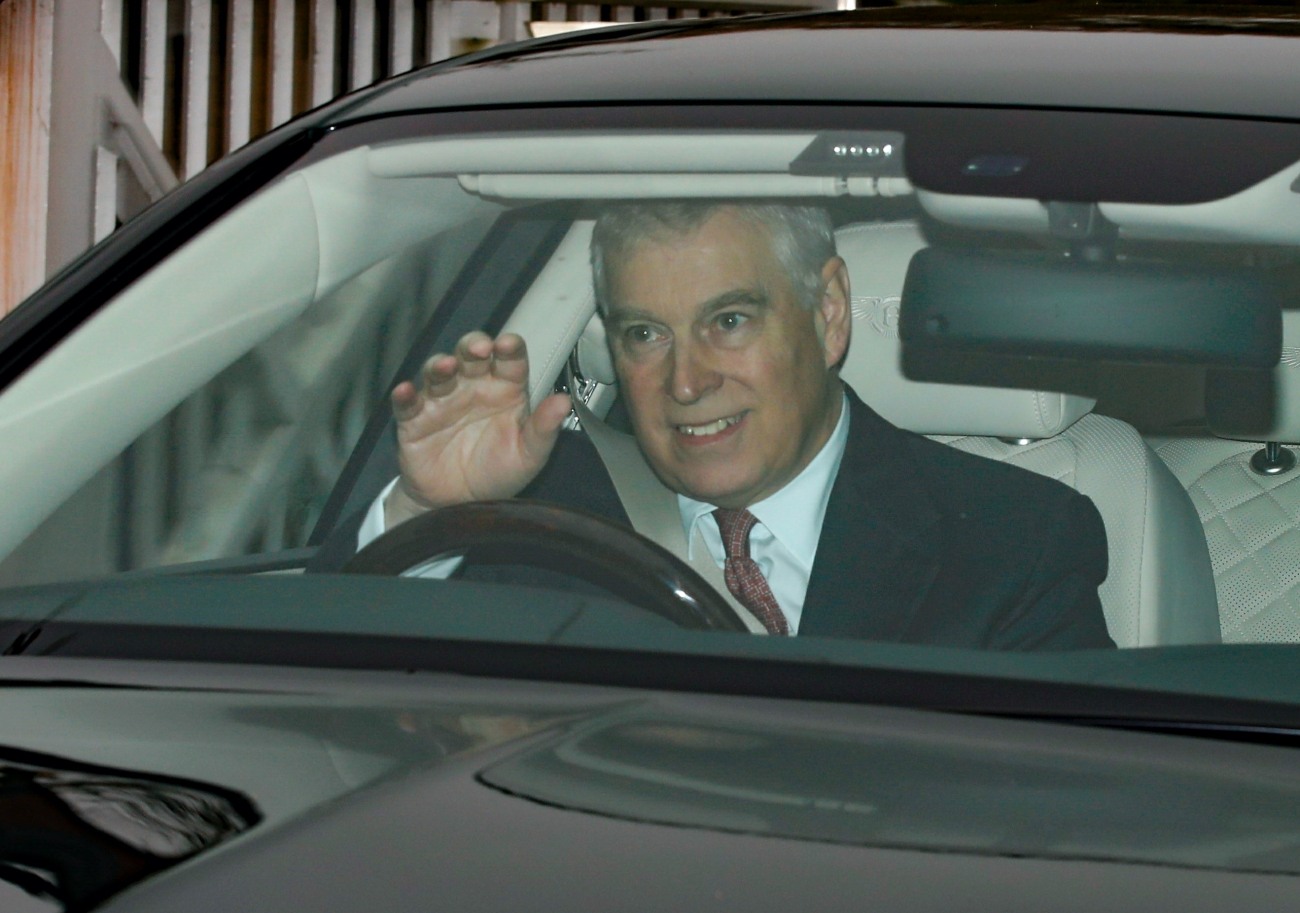 A few weeks ago, we learned that Prince Andrew has been secretly meeting the Queen under cover of darkness. We also learned that Andrew delusionally believes that he could make some kind of comeback. I believed the two stories were related – the Queen never wanted to fire her favorite son, and Liz of House Petty has made it clear that she's still "protecting" Andrew in all kinds of ways, financially, legally, bureaucratically. Maybe the Men in Grey want Andrew shoved in a closet, but Liz wouldn't allow it. So here we are. Now it seems that Andrew will cancel his latest attempt at a comeback:
Prince Andrew has been pictured today leaving Windsor Castle, the day after sources told the Daily Mail that he would never return to official duties and faces a future in the royal wilderness. The Queen's second son stepped back from official engagements a year ago in the wake of his disastrous BBC interview regarding the Jeffrey Epstein scandal. But in recent weeks the eighth in line to the throne has waged a quiet PR salvo, suggesting he was preparing to return to the public eye and 'serve his country again'.
Multiple sources said this week that this is highly unlikely, however, even if the Duke of York does finally speak to US officials over his links to convicted paedophile Epstein.
The Duke of York was seen out for a morning drive through Windsor Great Park on Saturday in his Range Rover, accompanied by a security detail in the car.
There is still no word from him about how and when Andrew might talk to US officials, despite US prosecutors making clear it is a priority for them.
'This is as much about judgment shown over the issue, as the allegations themselves,' one well-placed source cautioned. 'Even if the duke were to resolve matters satisfactorily over [Epstein], there is still an issue about [his] lack of understanding over the seriousness of the situation and not accepting that the relationship was wrong.' They added: 'I am not sure there will ever be an opportunity for him to return.'
[From The Daily Mail]
With these kinds of stories, I always wonder who is leaking what, and who is the intended audience. I kind of feel like this is one place where Liz and her courtiers are rather openly engaging in a public dispute. Liz keeps trying to make Andrew's comeback happen, and her courtiers keep going to the press to say no, it's not going to happen.
Anyway, the Mail had another story about one of the attorneys for Jeffrey Epstein's victims. Lisa Bloom said: "I do have hope that the Biden-Harris administration will be more aggressive in standing with victims of sexual assault. It is essential that Prince Andrew cooperate with authorities, as he said he would, so that they can fully investigate him and all others accused of enabling prolific predator Jeffrey Epstein." For what it's worth, Ghislaine Maxwell was …read more
Source:: Cele|bitchy
(Visited 1 times, 1 visits today)