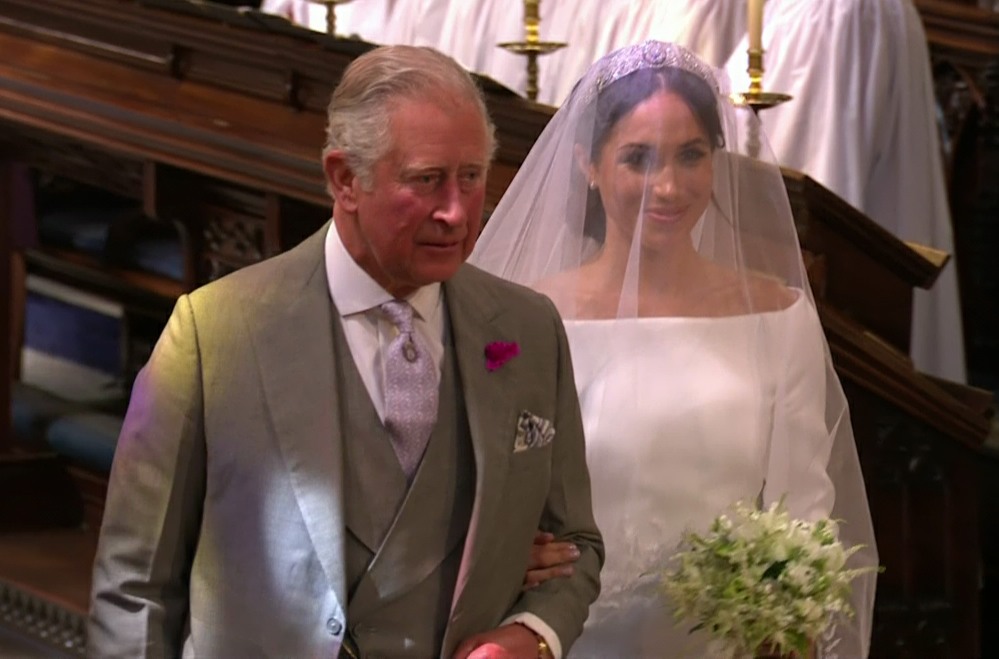 I honestly still get a bit emotional when I think about how Prince Charles got to walk Meghan Markle down the aisle for her wedding. I think it makes me emotional because it's a different kind of fairytale ending for both of them. Charles always wanted a daughter, and he got a chance to walk his daughter-in-law (and now surrogate daughter) down the aisle. On Meghan's side, it was a modern fairytale because her own father is tacky trash, and it was symbolic of the fact that she was joining a family where she has a father figure she can count on.
We've heard repeatedly now about how Charles and Meghan got along from the very start – how Meghan finds Charles charming and lovely, and she encourages Harry to treat his father better. We've also heard that Charles adores Meghan because they have so much in common, they're both big readers and they have similar interests, and he clearly wants to mentor her. But what's at the root of Charles and Meghan's instant connection? According to the Mail on Sunday's sources, they immediately saw each other as two people with extremely dysfunctional families?
The Prince of Wales and the Duchess of Sussex have forged a remarkable bond due to their dysfunctional family backgrounds, The Mail on Sunday has learned. Charles is deeply sympathetic to his new daughter-in-law Meghan's family troubles and is impressed with how she has coped with her relatives' embarrassing outbursts. One of his inner circle said the Prince recognised the House of Windsor has, like the Markle clan, endured 'so many traumas and crises… and many divorces' of its own.
The source said: 'Because there's been bad behaviour that's caused problems in his family, Charles understands how difficult it must be for Meghan. And it has endeared her to him even more.'
Those closest to Charles draw a parallel between Meghan's dignified forbearance in the face of hurtful comments from relatives, and how the Prince stoically endured public criticism from Princess Diana. 'Whatever they felt inside, they've both put on a strong public face and not hidden away,' said another source.
The Prince's close rapport with Meghan, whom he walked down the aisle in place of her absent father, has delighted Prince Harry and senior members of the Royal Family. It is an understanding that has been further strengthened by a shared love of art, history and culture, with Charles describing Meghan as 'incredibly smart'. Camilla has also warmed to Meghan. 'Not least because both of them have joined the Royal Family from the outside,' said a source. 'Camilla goes out of her way to find time to spend with her, to get to know her and make her feel welcome.'
As the tour of Australasia demonstrated, The Duchess's transition from actress to high-profile Royal has been seamless – something that has gladdened Charles, who believes her Hollywood training has enabled Meghan to withstand intense scrutiny.
In addition to the Event …read more
Source:: Cele|bitchy
(Visited 4 times, 1 visits today)