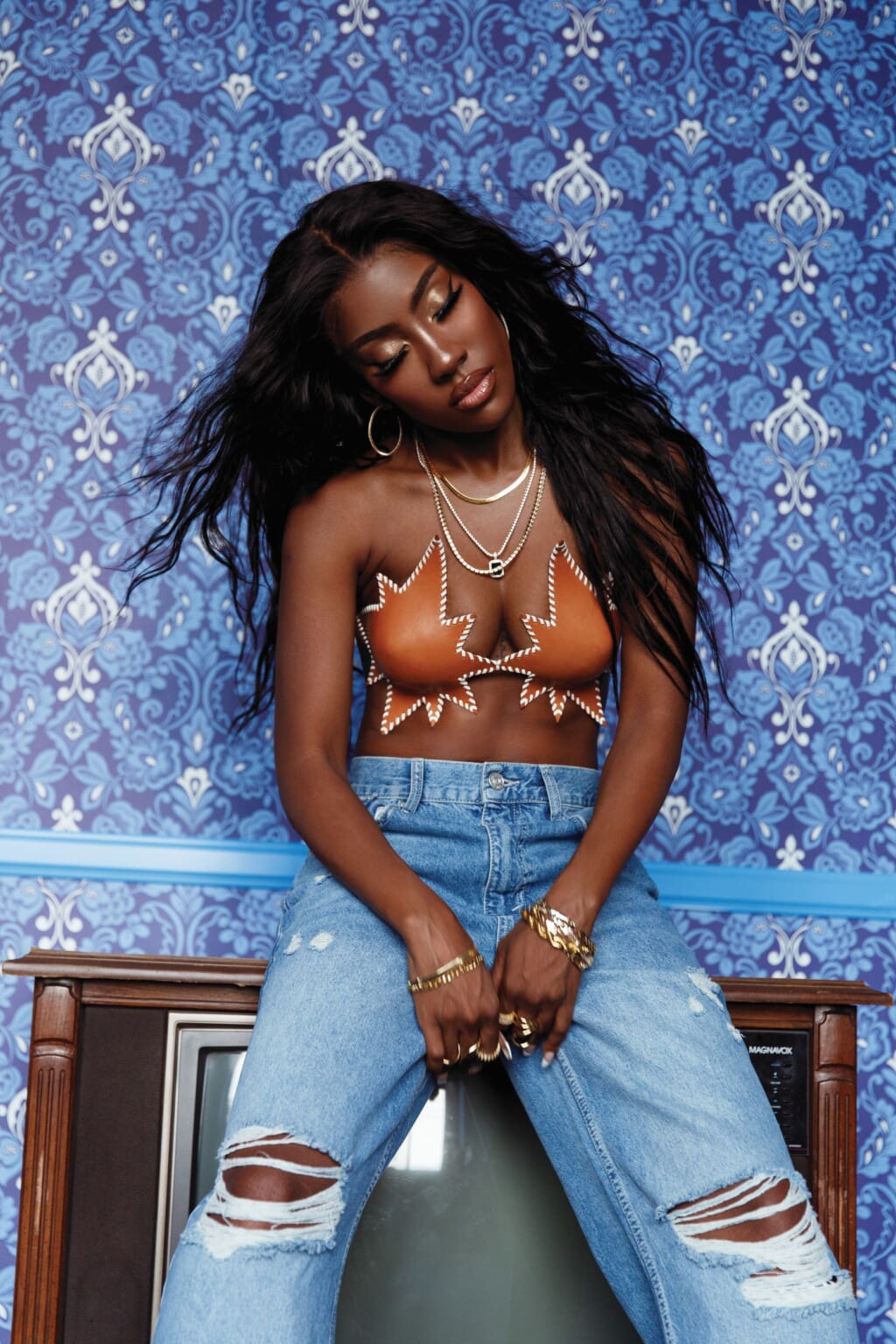 (Bonnie Nichoalds)
The top single off Sevyn Streeter's 2021 album, Drunken Wordz Sober Thoughtz, is a collaboration with Chris Brown and A$AP Ferg called "Guilty." The lyrics tell the story of an illicit couple who can't bring themselves to end their secret affair.
"You don't really hear a lot of women touch on the subject of being with one person and not being able to stay away from another. It happens," Sevyn tells us. "You may find yourself like, I cannot help it and I don't feel guilty about it. I like concepts that spark conversations and speak about truth, whether it's an ugly truth or not."
Other guests on the record include Bia, Lucky Daye, Jeremih, and Lavi$h, but Brown is one of Sevyn's long-time collaborators.
"The only person who could pull that off was Chris, he sings his face off. He sings with a lot of conviction and emotion. Obviously, we have a history of singing together and it's always turned into something kind of magical. And adding A$AP Ferg, I always liked hearing a New York rapper come in on that type of beat."
The song "Fall Back" meanwhile was inspired by a relationship she knew wasn't good for her, but indulged anyway. "Liquid Courage" came after a night of drinking and then unloading on an ex-boyfriend. And "Taboo" flirts with the idea that too good to be true can be true.
But "Guilty" stands out not just for the steamy music video of women arriving at a mansion for a night of private pleasure with some studs. "It has a James Brown sample from the song 'The Payback," Sevyn explains. "I've always loved that song 'cause my grandfather used to love dancing to it."
In that regard, "Guilty" reflects two sides of Sevyn, who splits her time between Los Angeles when she's working, and Haines City in central Florida where her relatives number in the dozens.
View this post on Instagram
A post shared by Sevyn Streeter (@sevyn)
Amber Denise Streeter, as she's known there, went to high school with 23 of her cousins where her mom was the Dean and her uncle coached the football team. At church, she joined her cousins in a choir group called Voices of Praise.
"The beautiful thing about church, no matter whether you sing well or not, they stand up and clap for you, telling you, 'Sing, baby, sing!' To me, that was my grandmas and my aunts and the neighborhood candy lady. Those were the women who gave me confidence to let me know I could do this," she recalls.
Another boost came with her first recording contract at the age of nine, performing in the girl group TG4, which included a young singer named Keisha. A year later Se7en (as she was then known) tied for first place competing in Showtime at the …read more
Source:: MAXIM – News
(Visited 3 times, 1 visits today)

Marvel Studios & Disney+ | SUPER BOWL 2021 | Promo