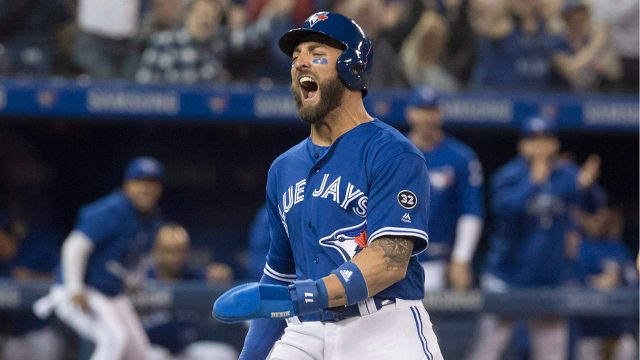 TORONTO — Exactly two weeks ago, Toronto Blue Jays infielder Brandon Drury stepped in for his second plate appearance of a game against the Tampa Bay Rays. Drury was a member of the New York Yankees then, and was playing in only his third game since being recalled from triple-A days earlier. Yonny Chirinos was on the mound for the Rays, and with his sixth pitch of the plate appearance, he tried to locate a 93-m.p.h. fastball up and in.
The pitch got away, barrelling towards Drury's chest. Drury tried to contort himself out of harm's way, but the pitch caught him on the base of his left hand, right above the wrist. He was in obvious discomfort as he took first base and, after he advanced to third on a hit-and-run, a Yankees trainer went out to check on Drury and decided to remove him from the game.
X-rays conducted by the Yankees were determined to be negative. The team described Drury's hand as bruised and designated his status as day-to-day. As it happens, he never appeared in pinstripes again. Drury was held out of New York's lineup the subsequent night and traded to the Blue Jays a day later. Drury made his debut appearance with Toronto 72 hours after the injury, entering the game as a pinch hitter, before starting seven of his new team's next eight games.
But the thing about bruises — often referred to as contusions — is they tend to improve progressively with proper care. Drury held up his end of the bargain, receiving extensive daily treatment on his injury. But, as he went 4-for-26 in his first eight games with the Blue Jays, his hand never got better.
Toronto Blue Jays on Sportsnet NOW
Livestream the Toronto Blue Jays on the most popular devices. Plus, get over 150 marquee MLB matchups, the Home Run Derby, All-Star Game and Postseason.
SIGN UP NOW
Things reached a tipping point Saturday in Seattle, when it was decided Drury would be held out of Sunday's game and sent for an MRI and CT scan on his hand in an attempt to determine why his injury wasn't improving. Follow-up imaging was completed Monday in Toronto, as club physicians consulted a hand specialist for further analysis.
Turns out, Drury had been playing through a fracture at the base of the fifth metacarpal — the pinky finger — on his left hand since being hit by the pitch with the Yankees. What New York's training staff identified as a bruise was actually much worse.
"X-Ray came back clean, looked good. So, I was just trying to do treatment and stuff the last week-and-a-half. And it just wasn't getting better," Drury said. "My hand was broke. So, I was just trying to play through it. I was doing everything I could to play through it. But it was just to the point where I couldn't swing right, I couldn't catch the ball right — it wasn't right."
Now, …read more
Source:: Sportsnet.ca
(Visited 3 times, 1 visits today)