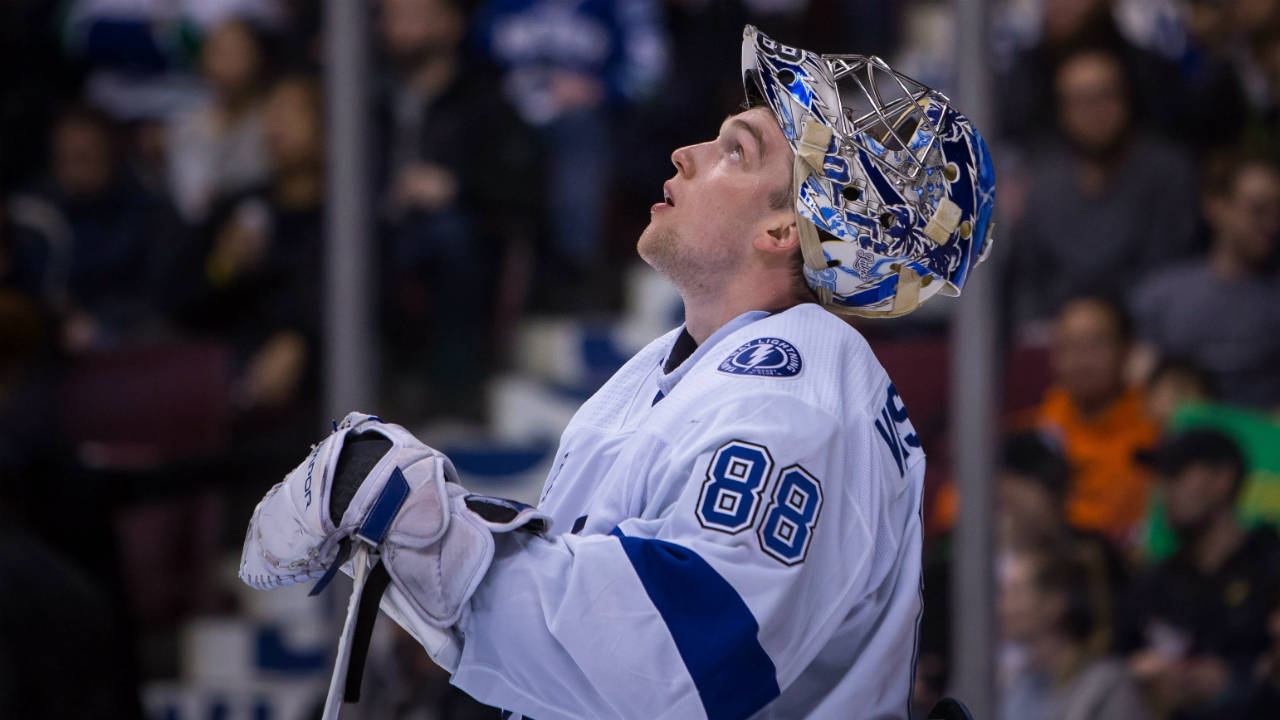 WASHINGTON, D.C. — When Ben Bishop went down with a leg injury in Game 2 of the 2015 Stanley Cup Final against the Chicago Blackhawks, a 20-year-old Russian goalie named Andrei Vasilevskiy came off the bench in relief for the Tampa Bay Lightning.
Centreman Tyler Johnson remembers it well: "Everybody thought we were down and out," he says.
Fair enough, too. Because while Vasilevskiy had seen some NHL action—16 games that past regular season, and two relief situations earlier in those playoffs—the 2012 first-round pick was hardly what you'd call proven. Plus, this latest assignment was decidedly different, with the Cup on the line.
"But in the locker room, we knew what we had in Vasy—we knew what he was capable of," Johnson says. "And he played unbelievable that night."
Vasilevskiy was perfect, in fact, making five saves in the little over nine minutes remaining in the game, and the Lightning earned the win. It had been more than 80 years since a goalie won in relief during a Stanley Cup Final series, until the young Russian.
Certainly, the familiarity with No. 88 for the Lightning has only grown since then, after this Vezina Trophy-nominated season in which Vasilevskiy helped lead his team to the best record in the East. He played in his first All-Star Game, led the NHL in wins and shutouts, and posted a 2.62 goals against average and a .920 save percentage.
But the 23-year-old hadn't exactly been shining in this Eastern Conference final, after giving up 10 goals through the first two games, in large part because his team wasn't giving him much in the way of support. "He's one of those guys we rely on, but we don't want to rely on him too much, which we've been doing," Johnson says.
if ( "1" == true && 'undefined' !== typeof window.getIndexAds ) {
var so = {preroll:{1:{1:{siteID:191888},2:{siteID:191889}}}};
adServerUrl = window.getIndexAds( 'http://pubads.g.doubleclick.net/gampad/ads?sz=640×360&iu=%2F7326%2Fen.sportsnet.web%2FVideo&ciu_szs=300×250&impl=s&gdfp_req=1&env=vp&output=vast&unviewed_position_start=1&ad_rule=1&vid=5785351327001&cmsid=384', so, permalink);
} else {
adServerUrl = "http://pubads.g.doubleclick.net/gampad/ads?sz=640×360&iu=%2F7326%2Fen.sportsnet.web%2FVideo&ciu_szs=300×250&impl=s&gdfp_req=1&env=vp&output=vast&unviewed_position_start=1&ad_rule=1&vid=5785351327001&cmsid=384";
}
$el.after( unescape("%3Cscript src="" + (document.location.protocol == "https:" ? "https://sb" : "http://b") + ".scorecardresearch.com/beacon.js" %3E%3C/script%3E") );
$( document ).one( 'ready', function() {
$( "#video_container-416642" ).SNPlayer( {
bc_account_id: "1704050871",
bc_player_id: "rkedLxwfab",
//autoplay: false,
…read more
Source:: Sportsnet.ca
(Visited 2 times, 1 visits today)