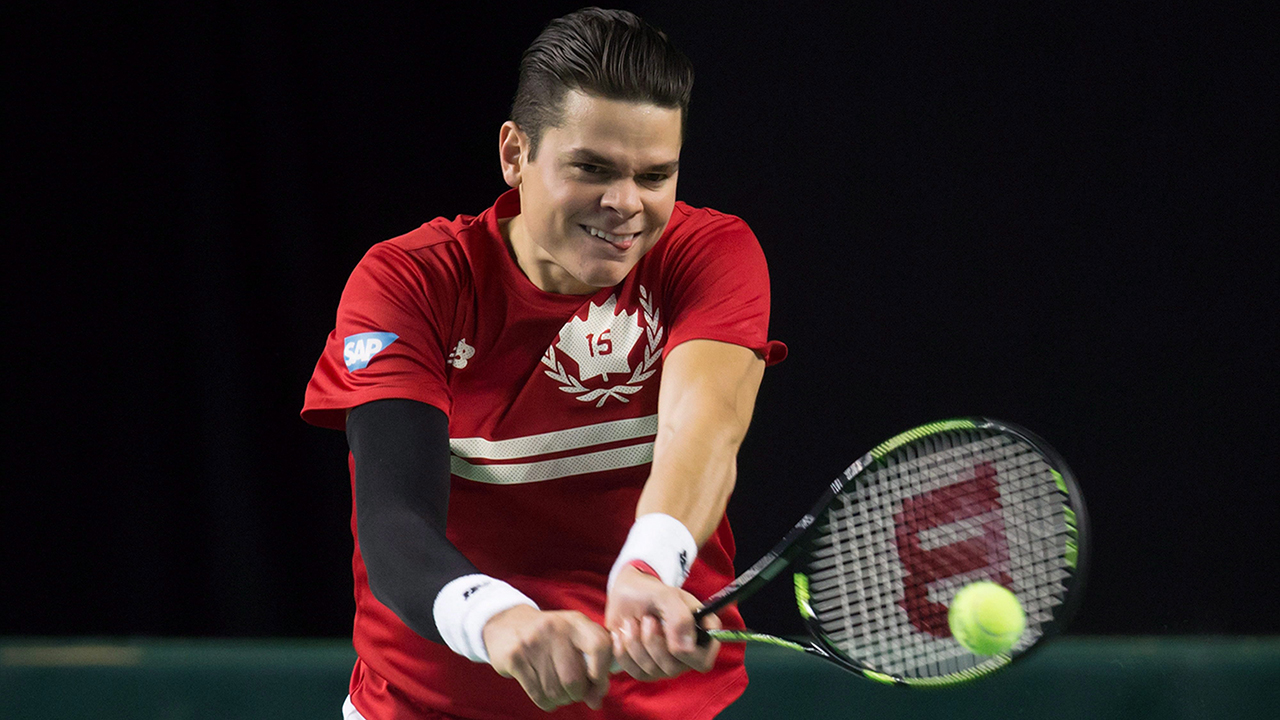 TORONTO — Milos Raonic beat Thiemo de Bakker in three sets to give Canada a 1-0 advantage over the Netherlands on Friday in the first rubber of their Davis Cup draw.
Raonic, from Thornhill, Ont., overpowered de Bakker 6-3, 6-2, 6-2, relying on his big serve for 21 aces to the Dutchman's two.
Denis Shapovalov of Richmond Hill, Ont., faced Robin Haase later Friday in the second singles rubber of the World Group playoffs.
Toronto's Daniel Nestor and Vancouver's Vasek Pospisil will team up on Saturday in the doubles rubber, facing Matwe Middelkoop and Jean-Julien Rojer.
The singles matchups will flip on Sunday, with Raonic playing Haase and Shapovalov taking on de Bakker.
Raonic is the top-ranked Canadian on the ATP Tour, rising up to No. 20 worldwide after his run to the fourth round at the U.S. Open at the start of September.
He's missed every Davis Cup tie since 2015's 3-2 win over Japan in Vancouver due to injury and his inclusion on the team has helped make it what many have touted as Canada's best-ever Davis Cup entry.
Played in Coca-Cola Coliseum at Toronto's Exhibition Place, home of the American Hockey League's Toronto Marlies, the hard-court match had a hockey atmosphere. Fans wore red and white, waved Canadian flags, banged drums, and clapped thundersticks together during stoppages in play.
Several times the chair umpire had to ask fans to quiet down with a terse "please," or "thank you."
After exchanging games, Raonic pulled ahead to a 3-1 advantage behind his powerful serve and well-placed volleys that stopped de Bakker dead in his tracks.
Although de Bakker got a point back, Raonic came right back with a sassy looping volley to win the fourth game and kept rolling to make it 5-2.
De Bakker, 236th in the ATP Tour's singles rankings, came back to make it 5-3 before Raonic easily won the set after a pair of challenges went his way. The first came from the Canadian side, asking for a check on a de Bakker return that was originally ruled in. Replay found that it was just out. On the set point, the Dutch challenged a call but Raonic's shot was ruled in.
Trailing de Bakker 2-1 in the second set, Raonic turned up the pressure. Relying again on his power game and pinpoint volleys, he won five consecutive games to take the set. De Bakker clearly started to get worn out in the second set.
Although de Bakker grabbed a quick lead in the third set, Raonic continued to push the pace with his Dutch opponent getting visibly frustrated, even exchanging words with the chair umpire.
Raonic won the final point of the third set when de Bakker's overhead smash went into the net.
Source:: Sportsnet.ca
(Visited 3 times, 1 visits today)