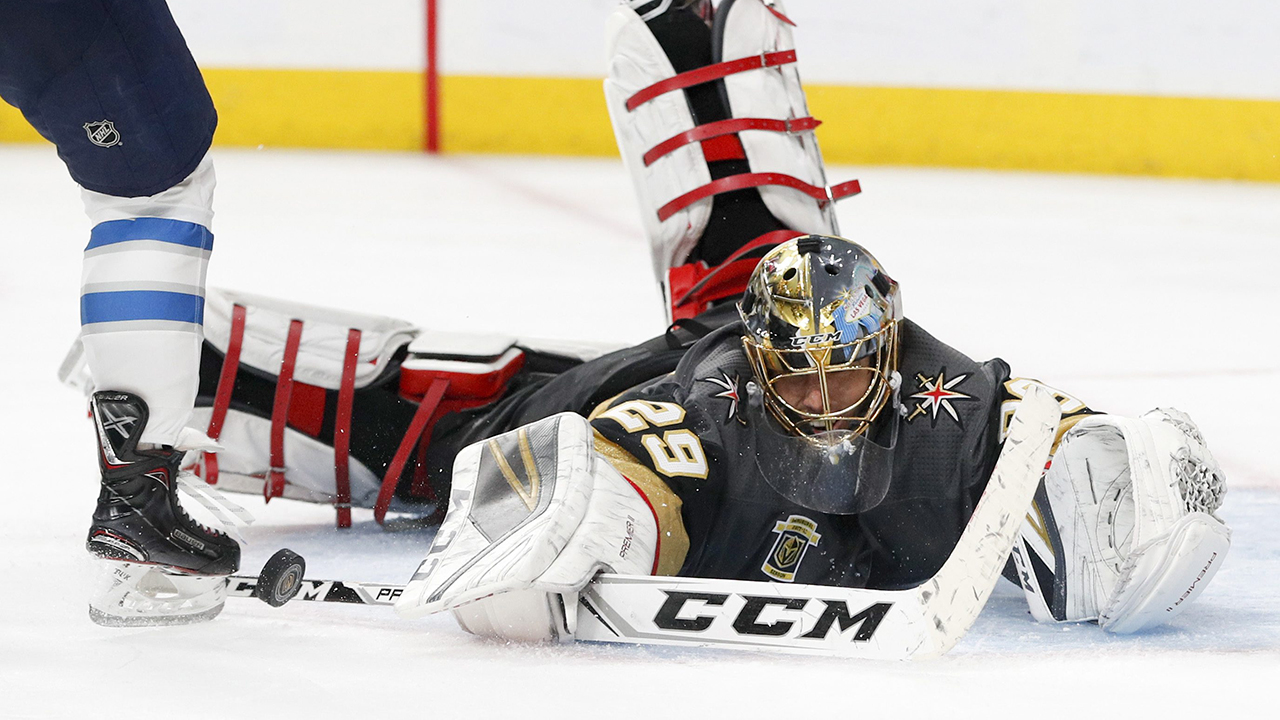 LAS VEGAS – He has played like a comic-book super hero all season and on Wednesday Marc-Andre Fleury looked like one, too.
At the biggest moment in the Vegas Golden Knights' amazing first season, the goaltender robbed the National Hockey League playoffs' hottest man, Winnipeg Jets' sniper Mark Scheifele, with a pair of amazing saves halfway through the third period as his team won 4-2 Wednesday to move within two victories of the Stanley Cup Final.
With Winnipeg pressing for a tying goal, Fleury stretched with his right leg to somehow get a toe on Scheifele's one-timer from the slot. Then, after the puck squirted back to the Jets' star for a second point-blank chance and a lot of net open, Fleury got airborne and dived across his goalmouth to block the second shot with his body.
They were the saves of the series, maybe the saves of the season as the Knights took a 2-1 lead in the best-of-seven Western Conference Final.
"Unbelievable," Vegas winger Alex Tuch said. "I mean, two saves."
"His toe came out so fast, boom, one save and back to (Scheifele) again," Knights' veteran James Neal said. "Then he comes diving across again and makes another save. He's been doing it all playoffs. He's been doing it his whole life."
if ( "1" == true && 'undefined' !== typeof window.getIndexAds ) {
var so = {preroll:{1:{1:{siteID:191888},2:{siteID:191889}}}};
adServerUrl = window.getIndexAds( 'http://pubads.g.doubleclick.net/gampad/ads?sz=640×360&iu=%2F7326%2Fen.sportsnet.web%2FVideo&ciu_szs=300×250&impl=s&gdfp_req=1&env=vp&output=vast&unviewed_position_start=1&ad_rule=1&vid=5785879733001&cmsid=384', so, permalink);
} else {
adServerUrl = "http://pubads.g.doubleclick.net/gampad/ads?sz=640×360&iu=%2F7326%2Fen.sportsnet.web%2FVideo&ciu_szs=300×250&impl=s&gdfp_req=1&env=vp&output=vast&unviewed_position_start=1&ad_rule=1&vid=5785879733001&cmsid=384";
}
$el.after( unescape("%3Cscript src="" + (document.location.protocol == "https:" ? "https://sb" : "http://b") + ".scorecardresearch.com/beacon.js" %3E%3C/script%3E") );
$( document ).one( 'ready', function() {
$( "#video_container-997596" ).SNPlayer( {
bc_account_id: "1704050871",
bc_player_id: "rkedLxwfab",
//autoplay: false,
//is_has_autoplay_switch: false,
bc_videos: 5785879733001,
is_has_continuous_play: "false",
adserverurl: adServerUrl,
section: "",
…read more
Source:: Sportsnet.ca
(Visited 4 times, 1 visits today)